Why Office Divvy?
In today's economy minimizing costs and reducing overhead while creating visibility and maintaining professional image, provides an unprecedented competitive advantage to work-at-home professionals, start-up companies and small business owners.

Our concept brings together an atmosphere conducive for networking with all the amenities necessary to run your business without the burden of additional costs.
We are very pleased to be providing this productive platform in Palm Coast, FL to professionals and business owners who want to focus on their business and not the details that go into setting up an office.

Whether you are interested in 5, 10, 20 or 40 hours of office use per month, our comprehensive plans give you the flexibility and affordability you desire.

If you are a professional or business owner, working from home in Palm Coast, where else can you meet your clients, prospects, or counterparts and keep a very professional image for as low as $129 a month?
Now you have an answer to that question:
Office Divvy.
A professional address and turnkey offices, front-desk staff welcoming your clients and supporting you while you are in your offices, creates a worry- free environment where the focus turns to business --exactly where it should be.

Why rent or lease a full-time office and keep a high overhead? Think differently!Our flex office offering is ideal for many business-people and professionals in Palm Coast, Flagler County, and beyond...
Schedule a tour of what could be your new offices. Call toll-free: 1.888.533.4889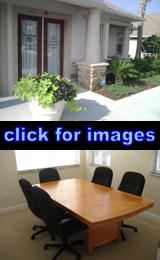 If you need to get out of the house, subleasing office space from another business can be the perfect solution to your small office needs. What you get with shared office space is the opportunity to create the office that bests fits you, your style and your business. You can choose the perfect environment to grow your business. Sharing space also allows you to network and share resources -- an added bonus.
by Jeff Landers for inc.com
The advantages of moving out of your home office boil down to increased professionalism, more space to work and unlimited growth potential… The advantage of a shared suite is obvious: You share the cost of the office and receptionist with others. You can rent one or several offices and make use of the community conference room. You'll save a bit on rent and eliminate any loneliness issues you may have had working from home.
by Lisa Kanarek
for Entrepreneur.com


The day to day headaches of managing an office sit on your capable shoulders. We take care of the technical infrastructure/equipment, mail and package delivery, staff-management, amenities, etc. so you don't have to.
There is only a straightforward agreement with no long term commitments. No hassles, no utilities or CAM!

Office Divvy is ideal for a wide range of professionals and businesses, including; Start-Up Businesses & Entrepreneurs, Tax-Accountants and CPAs, Attorneys, Insurance Reps, Independent Mortgage Brokers, Network Marketing Executives, Product Representatives, Independent Realtors, Work-From-Home Professionals, and others.

For questions, monthly plan information, or to schedule an on-site visit please contact us.
In the News: