Homeowner and Condominium Association Board Member Certification Seminar in Palm Coast
Wednesday, April 29, 2015 @ 6:00 pm

-

8:00 pm

Free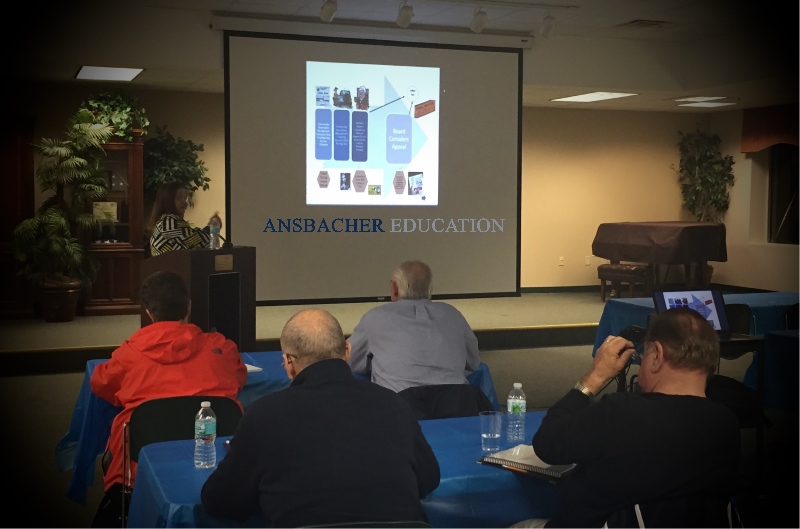 A perfect learning opportunity for the Homeowner and Condominium Association Board Members comes to Palm Coast on Wednesday, April 29th.
Ansbacher Education, the leading educational service for board members in Northeast Florida, offers the Homeowners and Condominium Association Board Certification Seminar presented by Attorney Christene Ertl of Ansbacher Law.
Ms. Ertl has over 13 years of relevant experience with a focus on condominium and association law.
Condominium and Homeowner Associations are governed by a Board of Directors initially appointed by the developer and subsequently elected by the membership. Board members are unpaid volunteers who serve their community.
Directors have the responsibility to enforce their governing documents in accordance with Florida laws, adopt budgets, maintain common areas and oversee all aspects of their community. Even with the professional assistance of a licensed community association manager and association attorney, it is important that directors be familiar with applicable laws, accounting rules and the articles, bylaws and governing documents for their community.
Florida laws require that new directors complete an approved education course, per 718.112(2)(d)4b Fla. Stat. for Condos and 720.3033(1)(a) Fla. Stat. for HOAs.
Both laws allow the alternative of filing a certificate that a new director has read the association's governing documents and policies, but this is not recommended.  Florida's association laws are complex and constantly changing. Understanding the fiduciary duties imposed on a director and the unique requirements for condominium and homeowner association boards regarding open meetings and membership access to records is critical for new directors.
Ansbacher Education is proud to offer this professional development opportunity for condominium and homeowners association board members and community leaders.
Through this seminar, participants will understand their unique roles and responsibilities, learn best practices, and receive licensing and continuing education credits as mandated by the State of Florida Department of Business and Professional Regulation.
  On Wedneday, April 29th
  6pm to 8pm | refreshments will be served
  There is no cost to attend this event.
  However space is limited and RSVPs required.
  To RSVP, please visit ansbacherseminars.eventbrite.com
* * *
Instructor
Christene Ertl | Ansbacher Law

A native of Florida, Ms. Ertl received her Juris Doctor degree, cum laude, from University of Miami School of Law in 1998.  Prior to attending University of Miami, Ms. Ertl received her Bachelor of Science degree, with honors, from Florida State University. She is an officer and Barrister of the Dunn-Blount chapter of the American Inns of Court. She is a member of the Volusia Bar Association, the Flagler Bar Association, and the Florida Bar's Business Law, Real Property & Probate law division and the Condominium and Cluster development committee within the RPTL, and Intellectual Property sections, the American Bar Association's Business Law, Real Property, and Intellectual Property sections, the professional organization of Building Association Managers (BAM), and the American Intellectual Property Association. Ms. Ertl's business practice includes some of the most well-known business communities in Florida, condominium and homeowner associations.
Related Events