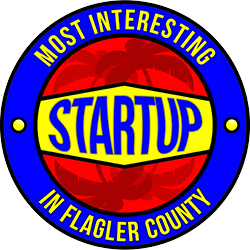 Is your company the most interesting Startup in Flagler County? Make us believe and win up to $50,000 in cash and services!
Submissions End: September 30, 2019
Winner Announced: October 16, 2019
You have a fire in your belly. You are the most interesting Startup and you already know it. You want to win this contest so you can show it. 🙂
Requirements to Enter:
Your Startup is interesting to people other than you.
You are a true Startup: For the purposes of this contest, we define that as being in Ideation, Pre-Seed or Early-Seed stages. If you have an existing business, it must be no more than 3 years old.
You are located either in Flagler County or are interested in relocating here.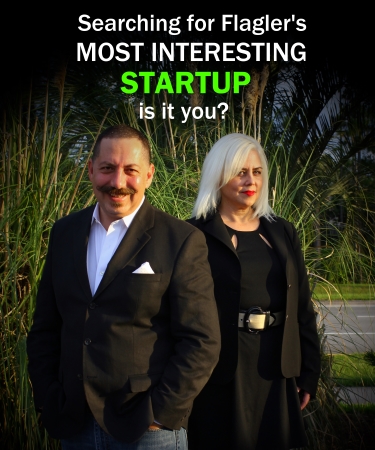 Answer the following questions:

(you'll answer in the form below)
What is your product or service?
What problem does your product or service solve?
What makes your product or service different?
Who is your (ideal) customer?
Why does the world need your business?
What keeps you up at night?
Winner will receive:
$3,600 cash prize plus 1 year of services from Office Divvy and other collaborators (listed below).
TOTAL VALUE: $50,000
Included services:
CoLocate | Membership  | Platinum Level
Your Palm Coast Office: Your Professional Location; Mail Service; name on the door; copy-print-fax; front desk team 48 hours a week; conference & meeting spaces available for your daily, weekly and monthly needs; a well-run professional and positive environment that offers plentiful amenities.


Call Desk | Phone Plan | Grande level
Your Call Desk Team: Your phone rings we answer; we listen, but we're so much more than message takers; we actually help the caller satisfy their reason for calling. That could mean: Scheduling appointments; answering questions; facilitating transactions and handling payments. We document your rules and shape a program proven to reducing cost and increasing sales.


Classes and Events  | Attend as many as you want
You'll attend all Office Divvy Events free: Classes; talks; panel discussions and round tables. We'll then bring you in to help sell your business and services through events strategized and catered toward your subject of expertise.

Digital Team Work  | Content Creation
You'll have access for up to 10 hours a month of Office Divvy's digital team and interns: They'll help you create and optimize your startup's web and social media content (writing, images, videos).

Consulting and Coaching  | Monthly
We'll provide Monthly and Year End Coaching and Consulting services: Developing for your startup core tools such as a business canvas; a financial and marketing plan; as well as an operational plan.

Added Bonus: One Year Membership to the Flagler County Chamber of Commerce.
Why We're Doing This
According to Bloomberg, 8 of 10 entrepreneurs who start businesses fail within their first 18 months. That's usually because they lack the know-how to scale appropriately and because of daunting overhead costs, specifically location staffing and phone ops. The entrepreneurs who succeed, and the ones who don't, is often a matter of luck, hard work, smart choices and whether or not they plug into an entrepreneurial ecosystem. Surrounding yourself with people who want you to succeed is key. That's what the winning package provides. According to the Wall Street Journal article, titled The Surprising Truth Behind the Myth of the Lone Entrepreneur, "inter-company pollination" is good business for business, and that's what you will have at Office Divvy. This contest is just one more way for us to give back to a community we greatly admire—one which we're committed to building locally.

Collaborators 
Submissions end: Sept 30, 2019
Winner Announced: Oct 16, 2019
In addition to Office Divvy services and cash, these collaborators providing their time for mentorship and advice –exclusive offers for this contest, which includes a winner's package for Year One!