We'll tell you what the connection is between the Entrepreneur Night event series and Office Divvy…
Creating a culture for Startups and Entrepreneurship in Palm Coast, Flagler County and in our overall Central/Northern Florida Region begins with enabling connections between entrepreneurs, business owners, and aspiring entrepreneurs.
Office Divvy, a Palm Coast based business percolator, founded in 2008, does this within its membership. In 2011, the co-founders of Office Divvy saw a need for enlarging the enabling of these kinds of connections, and hence created this open, inclusive, transparent event for Entrepreneurs and Startups, that is the Entrepreneur Night (EntrepreneurNight.com).
Entrepreneur Night is a grass roots event for and by entrepreneurs that's held at a different small business venue each LAST TUESDAY OF THE MONTH (except for July, August, and December).
The event is presented by Office Divvy ™.
Staying true to the regional goals, Entrepreneur Night has been held in five counties and over 10 cities. Over 10,000 individuals attended the events cumulatively.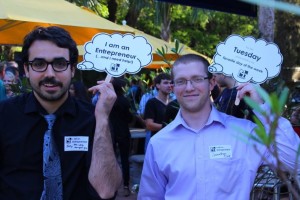 Each event attracts a truly diverse group of 100-200 Startup reps, entrepreneurs, aspiring entrepreneurs, angel investors, venture capitalists, as well as those providing support and services to entrepreneurs.
Entrepreneur Night has a special focus on web, digital and technology Startups, the representatives of which are encouraged to make their elevator pitch during the events, as well as look to meet mentors and investors.
For more information about Entrepreneur Night, visit www.EntrepreneurNight.com.