Beyond the Business Card Exchange | Networking and Breakfast
Thursday, January 31, 2019 @ 8:00 am

-

9:30 am

$39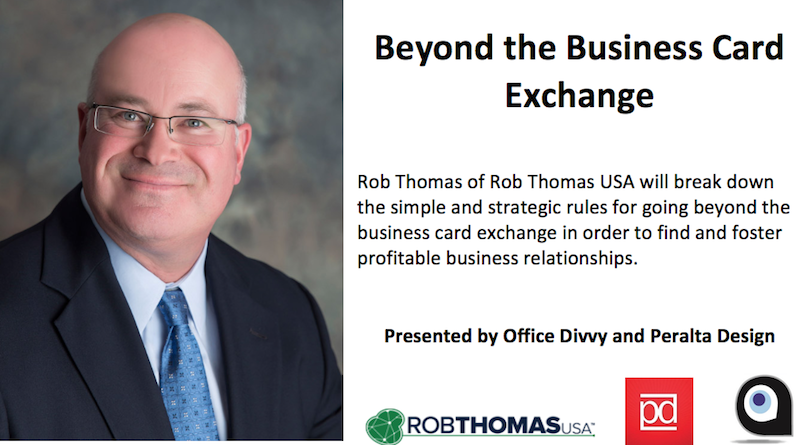 Are you ready to take your networking Beyond the Business Card Exchange?
Join Office Divvy and Peralta Design for breakfast at the Pub at Pine Lakes Golf Course on January 31st at an event that will take your networking skills to the next level.
Rob Thomas of Rob Thomas USA will break down the simple and strategic rules for going beyond the busines card exchange in order to find and foster profitable business relationships. This 25-Minute, lively presentation will share the backbone principles of the Rob Thomas Method of networking as well as his personal secrets and success stories.
There will also be time for questions, comments and networking.
About the Speaker
Rob Thomas is the founder of Networking in Diners and creator of the Rob Thomas Method (RTM). He credits his success to his own brand of networking, which turns the adage, "It's not what you know, but who you know," into a new and actionable process.
Today, as a business consultant and creator of the Rob Thomas Method™ of Networking, Rob teaches and coaches business owners and sales people on how to grow business by identifying and building a network of effective relationships.
Rob also works with large organizations from C-level executives on down. He helps them employ the Rob Thomas Method as their internal networking process, to build stronger relationships and add value within the organiz
ation.
Special Thanks to the Palm Coast Business and Professional Network for helping to sponsor this event. 
On Thursday, January 31

Light breakfast will be served from 8 am to 9:30 am
Cost: $39 per person
(RSVP Required – Seating is limited)
Note to Office Divvy Members & Clients: You get to attend this class Free of Charge. Please move down to the very bottom of the page for details on your Perk.
Satisfaction Guarantee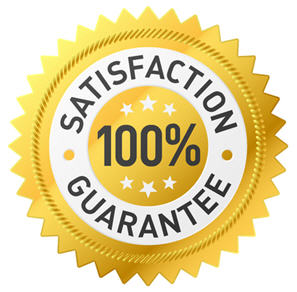 We guarantee that you will be satisfied with what you will have learned at the Workshop. If you are NOT 100% Satisfied, email Office@OfficeDivvy.com to request a refund. To process a refund, we require however that you articulate specifically on which areas you have felt disappointed. We require this because your feedback is tremendously important to us.
Small Group Learning
We limit the group size in these Workshops to maximize learnings by each participant. So expect an intimate session, quality interactions with the instructor as well as your fellow peers attending the Workshop.
Office Divvy Refund Policy
All payments are non-refundable in the case of cancellations or no shows. Because this is a small-group learning experience each seat is precious. If you cancel or do not show up to the Workshop, we will issue a Credit-Voucher which you can use for another Class or Workshop within 12 months of issue-date.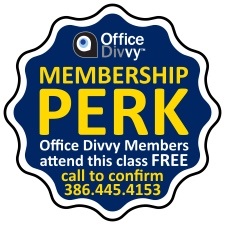 Office Divvy Members
If you are an active Member or Client of Office Divvy, you get to attend this class FREE OF CHARGE. It is just one of the perks of your being a client of Office Divvy. We appreciate you for doing business with us. And we're happy to present opportunities for your professional and business growth. Just call us to say you're coming to class, and consider your spot confirmed 🙂