Happy "Pi" Day | 3.14.19 | Special Deal for Coworking in Palm Coast
Friday, March 8, 2019 @ 8:04 pm

-

Thursday, March 14, 2019 @ 11:55 pm

$3.14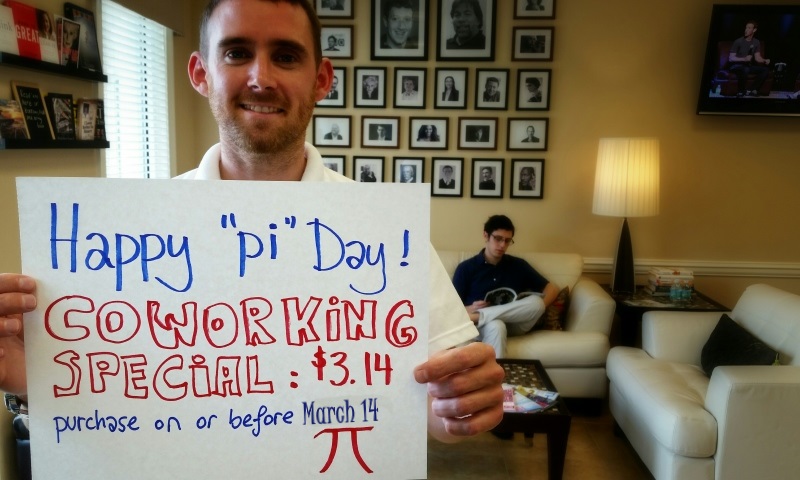 3.14159…..ad infinitum.  Or so it would seem.
You must know that we're talking about "pi." That irrational number symbolized by that teetering night stand of a Greek symbol. The one used to demonstrate a circle's ratio from its circumference to its diameter.
Pi is a fun number with a fun name and history.
Back in the day, as its finer points were being first understood, solitary scientists or maybe some grey-haired prisoners, even—anyone with more of an affinity for numbers than people—probably drove themselves up a wall trying to reach that last decimal place.
So in honor of those lonely souls and in honor of "pi Day," which happens 3.14 (SURPRISE!), Office Divvy is offering three Days of Coworking at $3.14!
Are you a freelancer or just someone who is tired of the isolation and distractions that comes with working from home? Are you in need of a fresh face and environment? A fresh cup of delicious espresso? If so, then this deal is for you.
And maybe you're not that person, but you know someone else who is that perfect candidate for Coworking? Then you can buy it for that special person who would appreciate this deal.
Or if that's a negative on both accounts, why not pay it forward? Because if you don't know someone, we definitely do!
This deal is for 3 days of Coworking (does not have to be consecutive). Must be purchased on or before 3/14/2019 | Can be used anytime within 3 months of purchasing (tickets expire 6/14/2019)