Office Divvy TM - a business percolator!
We are located in Palm Coast, Florida. We serve Flagler County, Ormond Beach, and Daytona Beach in Volusia County, St. Augustine in St. Johns County, and as far as Central, Northern and South Florida.
Our clients include Startups, Entrepreneurs, Professionals, and Small and Medium Size Business Owners.
Our flex-office-space offer is ideal for many business people in Palm Coast, Flagler Beach and beyond... Our service offering goes beyond office space. We provide one-stop-shop solutions

Featuring Two Locations
in Palm Coast, Florida


Office Divvy at West Pointe Plaza and COWORK by Office Divvy at Flagler Airport/Town Center (next to the Chamber).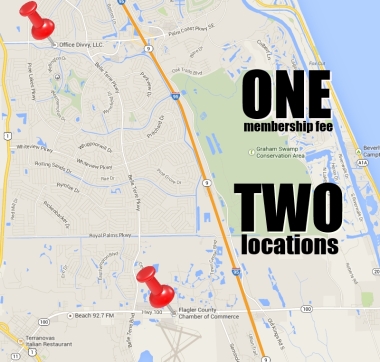 For Members Only


Schedule your office use here
Or simply call: 1.888.533.4889

Online booking is for Members Only.
Membership terms & conditions apply.

Visited the Office Divvy™ Blog recently?


We blog about subject matters that would interest an Entrepreneur, a Startup Founder, a Small Business Owner, as well as current and related subjects on Leadership, Inspiration, Marketing, Social Media.
...... ------
Melissa invites you in for a tour...
We want to learn about YOUR business and understand if Office Divvy's solutions are a good match to help you grow your business; help you save money and/or time. Best way to learn about our complete service offering is by having you visit us for tour. Here Melissa gives you an overview & invites you in for just that:

Do you like what we do?
You can support us literally with a mouse-click. If you are on Google+, please click the +1 button below. If you are on Facebook, please click the Like button below. Thank you :)



Office Divvy in the News:
Select news articles here:
Upcoming Events
Type your email address, click Goo
We'll never share your email with others.
You can opt out anytime.