COVID-19 and Coworking and Colocation – What is Office Divvy doing?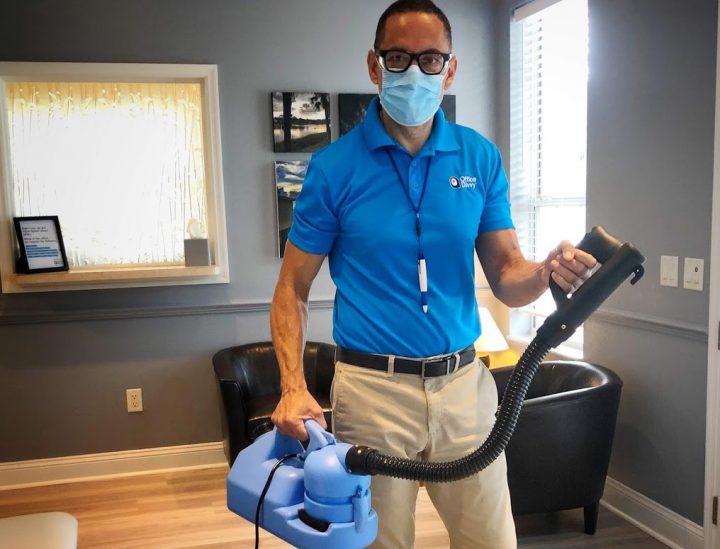 Seven months… It's been seven months since COVID-19 transformed life as we know it.
Today most folks in business are embracing face masks, trying their best to keep a six feet of physical distance, working with clients and team on video conference calls, and more.
In the office, both online and in-person, we've learned a lot while transitioning to this new normal. For a pandemic that is far from over, our emphasis continues to be on increased vigilance for safety with a great focus on compassion and empathy in the workplace.
We know that our team is lucky in contrast to the 60% of workers who cannot work from home.
At Office Divvy we have both fully remote employees, and we also have partially remote employees who take turns covering the office.
Here are some things we're doing at Office Divvy to operate responsibly while at the same time keeping optimism up.
Remote Work – Keeping it Fresh. Working in the cloud with remote tools and remote work has always been part of our culture. For those who needed to make this switch, it's been challenging.

For our company and team, the challenge has been keeping it fresh! So when new tech features emerge like Google's blurred background or the replacement of "Casual Fridays" with "No Camera Fridays", we adapt them and share it with others.

During online meetings we also enjoy asking "icebreaker" questions such as "how do you take your coffee?" or "what one thing would you bring if you were stranded on a desert island?" This has created opportunities for us to continue learning more about each other even with the absence of face-to-face interaction.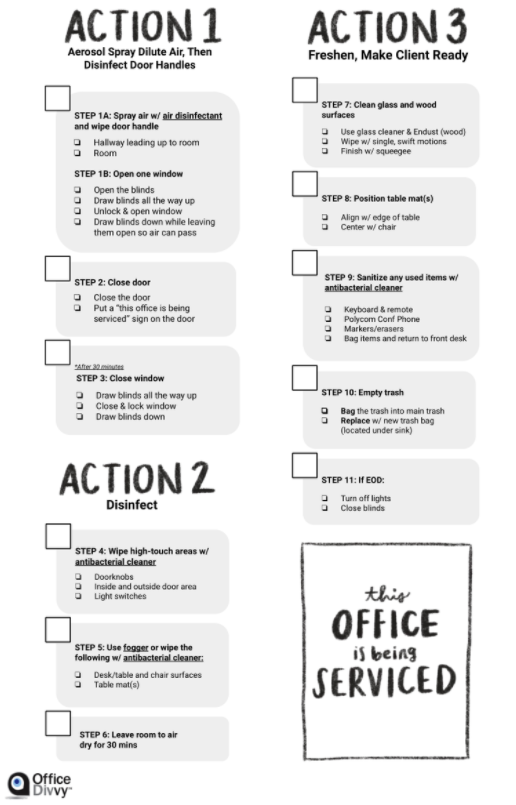 Evolving and Optimizing Sanitizing. Prioritizing the safety and comfort of our clients, team, and community-led us to a new 31-point sanitizing checklist which replaced our pre-pandemic 14-point checklist.

The relentless pursuit of all the products we would need to deliver to our standards has required its own research, trials, and tribulations.

The checklist gets down to the nitty-gritty on how we sanitize our office spaces and surfaces and eliminate pathogens from the indoor air.

Offering physical and mental comfort in our space is so important to us.

We've learned so much and continue to learn each day.

So out of the 31 steps from the checklist, which is our favorite? It has to be the electrostatic sprayer that we use to cover all the surfaces with a mist of disinfectants after office or conference room use.


Naturally, all this has been built into solid SOPs for the team.


Office Supply Rethink. What we no longer need vs. what we do has been a mind-bender of all sorts, but here are some vital changes and additions we've put into place:



Touchless garbage cans and paper towel and soap dispensers
Pen on a string hung from a team member's neck replaces a drawer full of pens
Large screens can still be found in conference rooms, though now you'll check out keyboards and remotes library-style. Naturally, we sanitize each upon use.
No more whiteboard markers and erasers laying about. Request those and we'll provide and sanitize when done.
The beverage stations for made-to-order coffees are less of a mainstream item right now. Cold cans of delicious lattes and espressos are easier.
We're big on bagging. Drop-offs, courier packages, and mail all get packed in a cellophane package when received. So when our clients come to pick up their mail or when they receive the package we overnight to them, they have a wipeable, sealed packaging before they dig into their mail and packages.
Essential Supplies. The supply chain has been broken. Disinfectants and cleaning supplies that we want have not come easy, so we've had to be scrappy, repetitive, and price tolerant in our searches. Things like individually wrapped masks should be basic and accessible but are not. Bulk orders of masks have been a trickbox as we work to secure the best possible product. We've made it work.


Touchless transactions. Dropping off documents or a package is often managed without touch. No courier delivery personnel enter the office to drop off packages. A passcode protected lockbox accomplishes all that.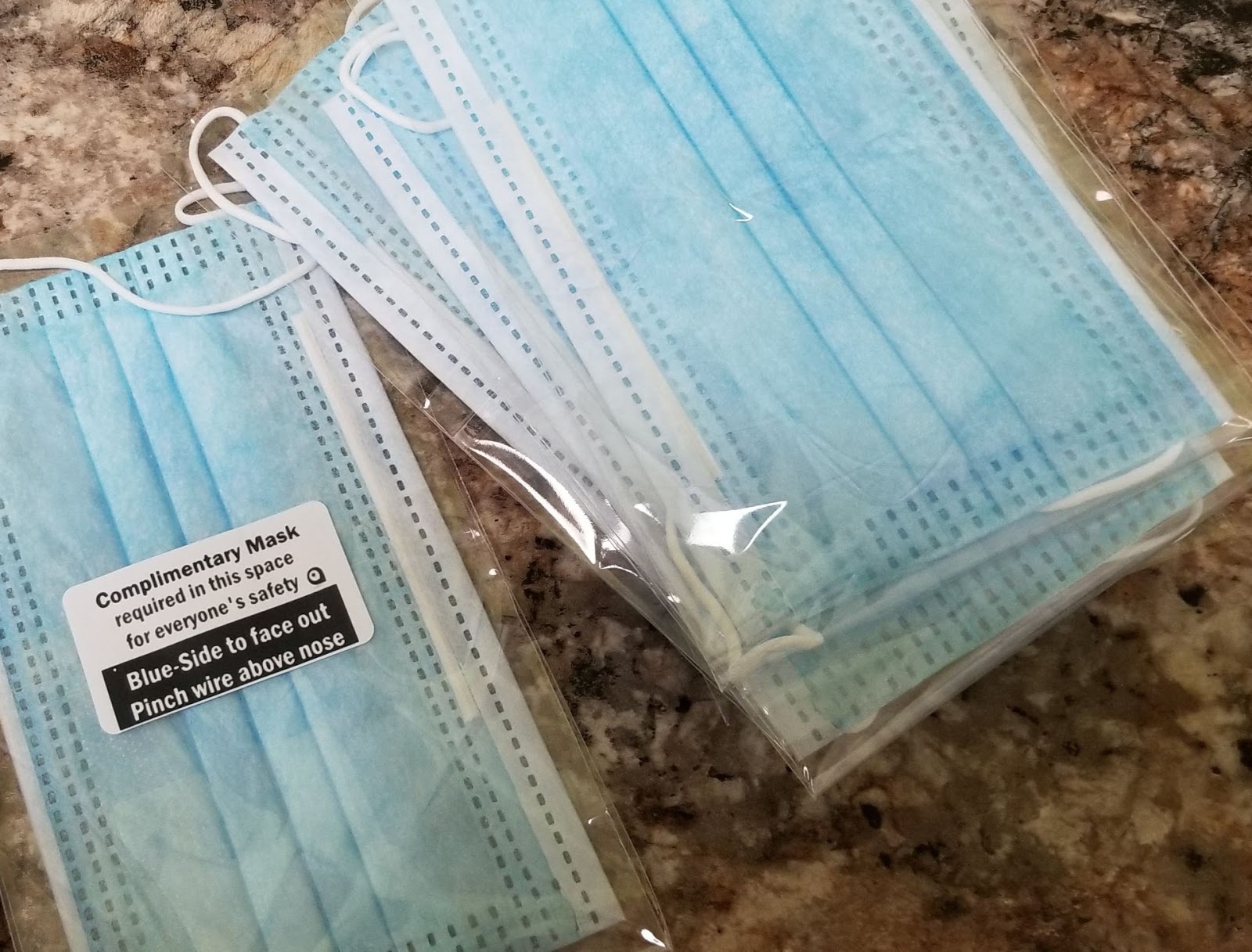 Mask required. Having learned that we're dealing with an airborne virus, we've made mask-requirements in the space from get go. We're not going to drop our guard down on that anytime soon.

It is a minor inconvenience for our members and their guests on the side of safety, and 99% of all the people who have been in the space have respected and embraced that. The other 1%? Sadly, they have not been allowed in the space.


Show we care. Extra empathy towards clients and team members is of utmost importance. This is, no doubt, a difficult and uncertain time for everyone. There's no way to know exactly what everyone is going through, but there are many ways to have empathy and compassion for clients and team members.


When we send mail we often add a little something. This has ranged from tea to protein bars to screen cleaners–whatever will lay flat in an envelope and spark a smile.
Unscheduled check-ins done through a phone call or video conference
Sending cards, throwback pictures, or articles
We've spent extra time on business introductions and thinking strategically about what may be most helpful to our clients at this time.
Less pressure for our team on deadlines and more time to accomplish our core work rather than stretch goals
Sensitivity towards others' experiences and situations is something we value. We know a person who can be impatient on the phone or in person may be carrying a heavy load. They may be dealing with a loss, feeling the pressure of sharing a home workspace with kids, worrying about a family member, or so many other things. It's important that we be conscious of these underlying circumstances, even if they are not explicitly told.
Vigilance to COVID means wearing a mask and keeping a physical distance, but it also means looking out for one another in deeper ways.
You can be assured that Office Divvy has been observing strict COVID protocols whenever we need to be in the office. Our members have already prioritized a functional business location that runs with or without their physical presence.
A commercial address is easier to find via Google, and can be used as needed, whether it's to meet with a client in person or pick up a package. A commercial address also protects our clients' privacy because they don't need to make home office addresses public. Read this article to learn more on this front: 5 Reasons Your Business Needs a Home Besides Your Home Office

Our entire team embraces all of the protocols and procedures. Everyone jumps into action from wiping the door handles after incoming and outgoing traffic to opening windows in the offices and conference rooms after each use to wearing gloves when handling packages, and certainly wearing masks for in person interactions with team members and clients alike. Sounds basic, but all this does require vigilance, paying attention and operating as a unit. It is unbelievably rewarding to see that.
The work we're doing to learn, implement, and maintain procedures, safety, and vigilance is hard work. It takes constant brain power and physical effort. It requires the team to be "always on." We all feel it when the workday is over more than ever before.

Finishing this blog post with the famous words of JFK…

We choose to do these things, not because they are easy, but because they are hard, because that goal will serve to organize and measure the best of our energies and skills, because that challenge is one that we are willing to accept, one we are unwilling to postpone, and one which we intend to win, and the others, too.
We celebrate those who are doing the right things during these unusual and difficult times. It doesn't feel great to see businesses practicing superficial steps of safety, or ignoring safety precautions entirely. Remember, integrity is doing the right thing even when no one is looking.


______________________
Acknowledgements: This blog post was the product of a two-month process of reflective learnings, research to collaborative drafts and finalization. Big thanks to Gabriel Schaffner for taking the lead and getting us started, and to Michelle Taing for bringing it across the finishing line.


Latest posts by Ky Ekinci
(see all)