Dr. Paint and Office Divvy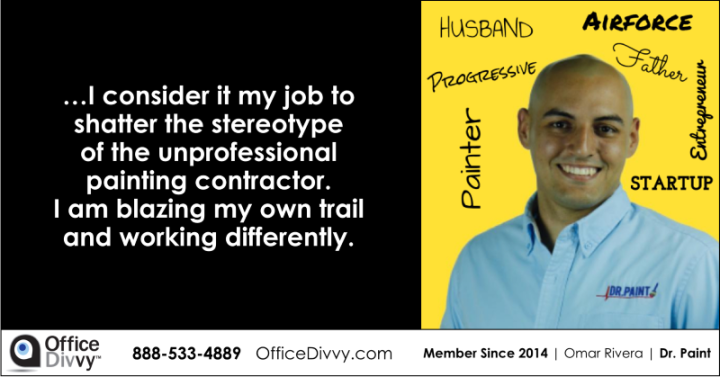 I consider it "my job" to shatter the stereotype of the unprofessional painting contractor. I am blazing my own trail and working differently. ~ Omar Rivera
Omar and Katherine visited our offices back in August 2014, interested in professional office space for their Flagler County Startup, Dr. Paint.
Ready to start building their business, they felt they would need a business location to help separate home and family life from what was about to become a 24-hour seven-day-a-week commitment dedicated to growth, without adding costs they were earmarking for other things.
As we walked through each office and conference room, listing amenities, and explaining our cooperative model, they had a number of questions:
– Do the conference rooms have white boards?
– If a customer stops in and wants to drop off a contract or payment, how is that handled?
– If our "use" of meeting space is up one month and down the next, how does that work?
– We produce a newsletter that we mail to our customers, how much color copying is included in our program.
We liked that they had a lot of questions and future plans. We liked that they like to whiteboard.
A Membership Program would give them a professional location with meeting and office space as needed. Phone Answering and Estimate Scheduling would allow them to instantly enlarge their customer experience, without committing to part-time or full-time staff too early.
Their openness to working differently would save them $15K-20K year one…and it did. We're proud to be working with Dr. Paint for one full year now. We see it as year 1 of many years ahead.
We're impressed with how fast they can pivot when they see an opportunity. Recently, they added these far-out flooring solutions as a new dimension to their business. They are separating themselves from the pack.
The Office Divvy and Dr. Paint relationship continues to grow.
We've recently turned our attention to the Dr. Paint Digital Strategy which allows us to come full circle in helping to actually make the phones ring with online disciplines for being found.


Latest posts by Lisa Ekinci
(see all)