New Years Resolutions: In Or Out?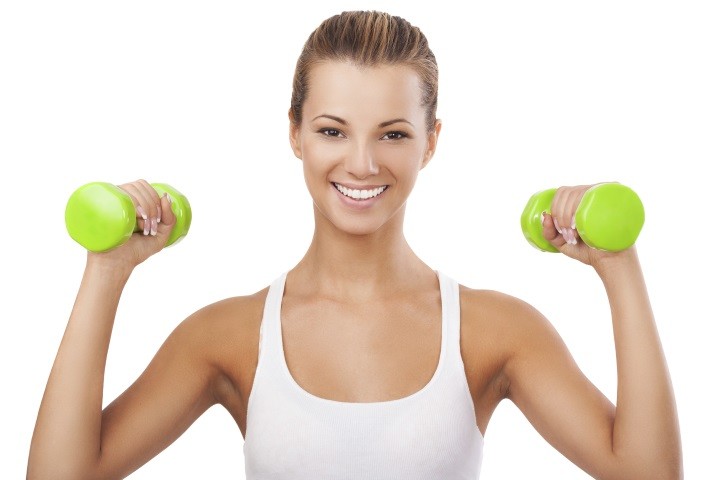 The New Year is a special time for me…
Since I was a kid, it has been the most important holiday in my life. I've always liked it better than my birthday, or any other holiday. I particularly like the fact that it is non-religious, and that it creates excitement in most of the world.
I find the New Year's Holiday to be a progressive one: It creates closure to what was and offers a terrific celebration for what's ahead. The significance of closing a year, and beginning a new one, organically brings on the thoughts such as "will I be a better version of myself?" and "what will I do differently this year?"
New Year's Resolutions seem to have become a big joke, i.e. how Gyms are only busy in January, and that before you know it people are back to their old habits.
Jonah Lehrer, had an excellent article in the weekend edition of Wall Street Journal: Blame It On The Brain.
The article is on Will Power and New Years Resolutions,and it, from a scientific standpoint, concludes that the latest neuroscience research suggests spreading resolutions out over time, is the best approach. He says this:
"Willpower, like a bicep, can only exert itself so long before it gives out; it's an extremely limited mental resource."
John Lehrer makes excellent points from a scientific standpoint, based on research conducted, and gives some good tips. Below is an excerpt from the article.
"Given its limitations, New Year's resolutions are exactly the wrong way to change our behavior.

It makes no sense to try to quit smoking and lose weight at the same time, or to clean the apartment and give up wine in the same month. Instead, we should respect the feebleness of self-control, and spread our resolutions out over the entire year.

Human routines are stubborn things, which helps explain why 88% of all resolutions end in failure, according to a 2007 survey of over 3,000 people conducted by the British psychologist Richard Wiseman.

Bad habits are hard to break—and they're impossible to break if we try to break them all at once…"
Jonah Lehrer argues that Not Overloading Your Mind (spreading resolutions out over time), Self Awareness (to fix your willpower flaws, you need to know about them) and Distraction (getting the tempting thoughts out of your mind by focusing on something else) may help you stick to your New Year's Resolutions.
As we're getting ready to go into 2010, we ran a New Year's Resolutions ad campaign for Office Divvy in multiple print publications in Palm Coast and Flagler County, on the Office Divvy website and other online portals, as well as twitter and facebook.
The idea was to get the encumbered small business owner to think differently in the New Year as it relates to overhead and getting some help. The artwork you see here is from one of the Office Divvy ads…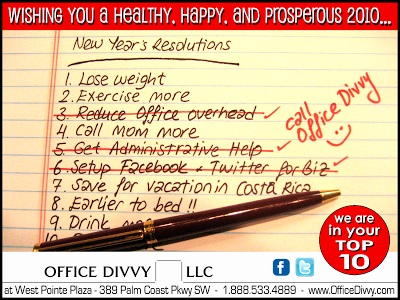 This online and print ad campaign was well received by the Palm Coast and Flagler County Small Business, Entrepreneur, and Professional Community.
Whether the neuroscience researchers like it or not, I think New Year's is an excellent time to reflect on one's actions in the past year, and to think ahead.
In my opinion, that all begins with writing down a list of what you would like to accomplish in the coming year.
Having written goals is a proven way to tackle one's objectives. I say what better time to do this activity than over the Holidays and New Year's.
If loosing sight of your goals, or giving up on them is the real issue, whether it's because of human willpower limitations or something else less scientific, try keeping your list of goals in your sight, sharing them with trusted allies who can help achieve them, and practice affirmations.
Goal setting is a whole another topic, but reflecting on the question "What Do You Really Want" is always good place to begin.
Cheers! To a happy, healthy, and prosperous 2010!
This blog post previously appeared in the Old Office Divvy Blog


Latest posts by Ky Ekinci
(see all)