We have a Winner! Most Interesting Startup in Flagler County (2016)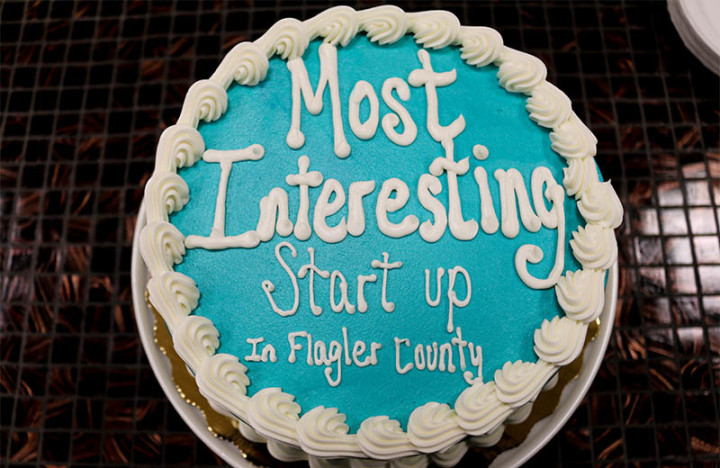 Who won the contest, Most Interesting Startup in Flagler County in 2016?
We announced the results at COWORK by Office Divvy on November 15, 2016, an event attended by more than 60 attendees.About two dozen of the contestants were there along with the mentors/judges for this contest. We were also honored by the presence of Flagler County Commissioner Charlie Ericksen–who said he was out to see who among the promising entrepreneurs on hand would be paying his social security in the near future. Other business owners and just entrepreneur supporters also got in on the fun.
For our inaugural contest, the MOST INTERESTING STARTUP in FLAGLER COUNTY, we had a very solid 30 entries with many interesting ideas among them. In a contest like this there are no losers. But there was definitely a winner. It is a contest after all.
Meet the winner…
"I have to let you know, I'm one of your kind…"
When Angel Gonzalez uttered these words after the announcement that his Startup Snappy Kraken was in fact the winner. But he wasn't speaking to some secret club of aliens, as it may sound. Rather he was making an overture to a breed of person who far too often gets themselves stuck in an alienated mind-set: That of the Lone Entrepreneur.  Crown or no crown.  🙂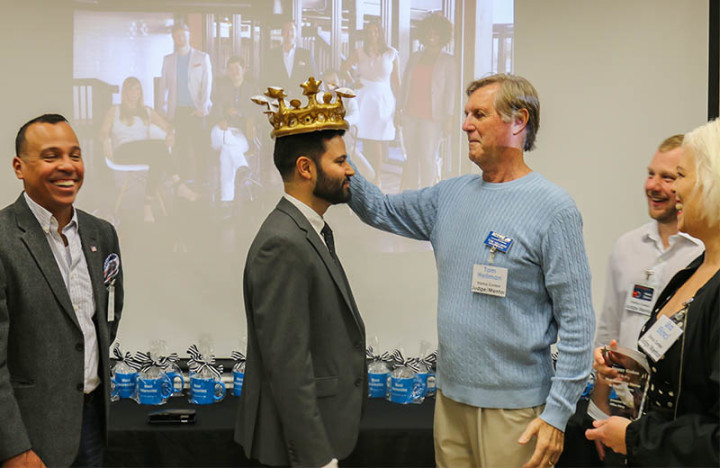 The utterance, borrowed from the 1987 INXS song, "Need You Tonight," could be described as Gonzalez's entrepreneurial rallying call.  His bounty: Approx $46,000 comprised of cash and Office Divvy services, in addition to time with the mentors, in this case the judges. Snappy Kraken was just founded in April.
Speaking in a room full of entrepreneurs and speaking about entrepreneurs in general, Angel said: "I want fellow entrepreneurs to know I'm one of their kind. And they're one of my kind." No matter how disparate the path,  "I don't believe in being a lone wolf," he said. "Being in a band is better than being a solo artist."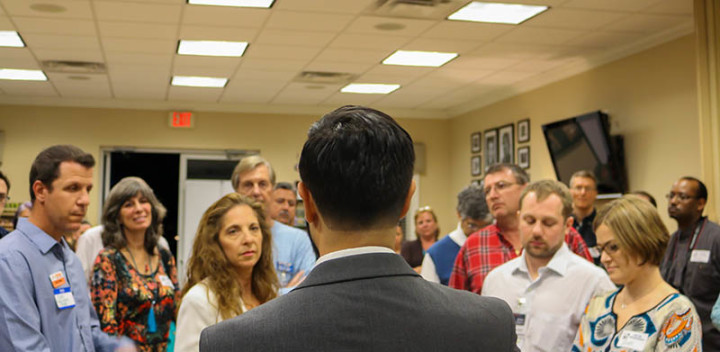 It's exactly this type of cooperative and community oriented thinking that falls right in line with the decision of Office Divvy, approaching its ninth year, to hold a Startup contest, according to Office Divvy co-founder Ky Ekinci at the top of the evening:
"At Office Divvy we went through this same journey of any kind of Startup: Idea, excitement, adrenaline, disappointment, fearing failure. But through that journey we were with peers all the time, because of the type of business we're in.  So when we offered this contest, it was to draw out folks who are working on interesting ideas to see if there are any big ideas in our community. Typically all these ideas are thought to be born in Silicone Valley, and the New Yorks of the world. But do we have the right ideas in our own entrepreneurial ecosystem?  And when we have the right match, at Office Divvy we have the right team, the the right people to surround that Startup with, to maybe give them a fighting chance to do something significant."
It's this same sentiment you'll see  in the story of Blue Eye Logo. If you did not read that post, you should. You will then understand this evening was no place for the naysayers.
To hear Gonzales tell it, what Snappy Kraken does is revolutionize the way small businesses handle their marketing, using automation. "What we're doing is we have a platform and it automates hundreds of thousands of dollars worth of complete marketing campaigns, created by agencies." They've also opened up a marketplace where freelancers and agencies can create recurring revenue so they can move past one-offs.
Falling anywhere between ideation, pre-seed, early-seed, or existing businesses under three years old, there was 30-some competitors vying for the victory. Just a few of those included:  The first national farm-to-table dinner theater; a company that produces electric vehicles for inner-city commuting, summed up visually as a three-wheeled scooter that folds up into a briefcase; and an identity protection app which uses just a finger print to make all transactions.
After hearing the winner speak as well as the other contestants, there was no hard feelings from contestant Bill Kratsas of Gunnar's Distilling Company:
"We all think alike, we're all on the same wave length in that we're trying to create something. There are a lot of things that we trip over. And I'm sure there's a lot of us tripping over the same things, even though we're uniquely different. We could all use a little confidence and a little pat on the back."
When asked, one of the official judges, Mike Davis, or Lawyer Mike D as he's known, spoke about how he, and other judges, approached making the final decision:
"My criteria looking at this, was what do I find interesting–I took that name, name as in Interesting, to heart. What I thought could actually be successful. And what could touch the most people. They had some of that base-work that some of the companies didn't. And they knew their market, which was good. And they seemed to have a product that could be successful regionally, nationally, globally."
When it came to what other companies didn't do, Davis said there was an apparent gap, in some cases, in the amount of time spent in the application process. "The businesses that went above and beyond to go into the details sat higher with me.  The less depth, the harder to connect, particularly with industries with which one is less familiar."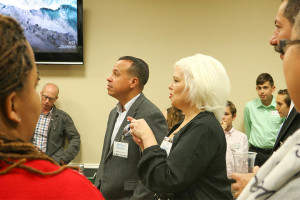 As Office Divvy Co-founder Lisa Ekinci put it, "It's a perfect illustration about how we get so close to our businesses and sometimes, people have to catch up with you. Business owners have to think about making the case to consumers and judges alike."
According to Gonzales, Snappy Kraken began as roughly drawn dry-eraser marker diagrams on a sliding glass door, as he and his co-founders brainstormed business models, revenue streams, and how to make the automation work.
His inspiration was this reality: In his words, "A lot of business owners who're amazing at what they do, amazing technicians, artists, and engineers, but we found that many couldn't market themselves. In fact a lot of them didn't have the time or the budget to market themselves. So one of our dreams has been to pretty much democratize amazing agency-level marketing and give that to small business owners."
What small business owners surprisingly often overlook is answering these most basic questions, he said. "Why am I doing what I'm doing? Who am I trying to reach? And what action am I trying to take?"
That seems self-explanatory, but it takes more time for reflection than many business owners leave themselves.
"They have an affinity for what they're doing, they start bringing in some revenue and they get caught up in the day-to-day," he added. "Before you know it, you go a long time without answering that first question."
The fact that this is what Snappy Kraken does for other businesses, may explain why they were well suited for this competition–if we're going by Mike Davis's criteria, certainly.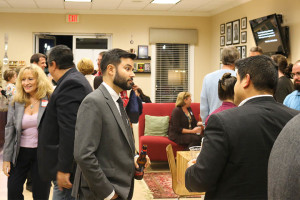 Just take the name Snappy Kraken, for example. It leaves an impression. One reason is its assailment of a fantasy movie stereotype in an unusual industry. A Kraken is a mythological sea monster often depicted as a giant squid, famous for mercilessly destroying ships. Right now the Snappy Kraken brain trust is chasing companies in the financial industry.
In those businesses you find many similar names and symbols–a lighthouse or a boat, for example. Quite the opposite of what Gonzalez and his cohorts ended up choosing.
Not everyone's going to love it, but it creates a reaction, he said. "Our Kraken is a friendly guy. He's cool. If you think of business owners as ships," contrary to expectations, "he's helping them out and lifting them up."
* * *
Enjoy this overview slideshow seen during our event:
Here is how our judges ranked the top 5 ranking contenders by vote distribution: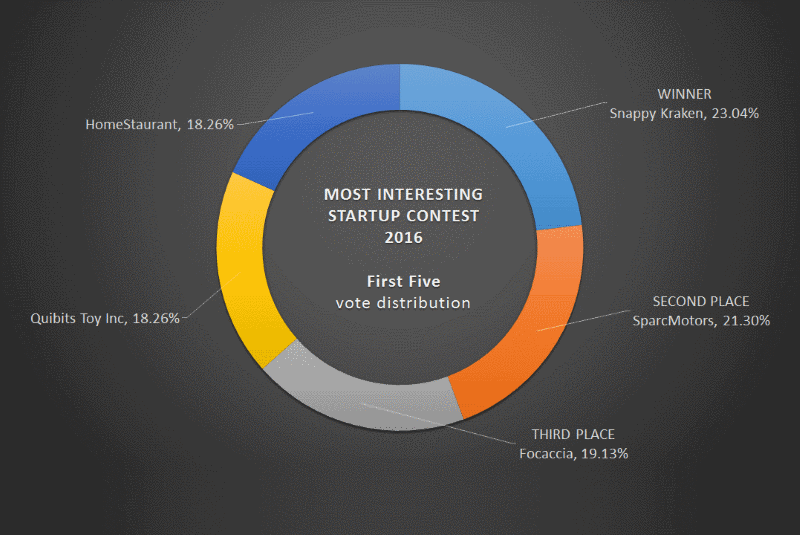 What exactly did the winner get?
Location (Membership:  Platinum Level)
Your own Palm Coast office & professional business location with daily Mail Service; name on the exterior, copy-print-fax bundles; front desk team 48 hours a week; unlimited coworking, platinum-level private office use (up to 80 hours a month) with conference & meeting spaces for daily, weekly and monthly needs; a well-run professional and positive environment that offers plentiful amenities.added bonus: One day a month at participating coworking spaces across Florida with the Coworking Passport program.  Locations include: Orlando, Jacksonville, Tampa, Gainesville, Tallahassee, Miami and more! 

Call Desk (Phone Plan: Grande level)
We are Your Call Desk Team: Your company phone rings we answer professionally; we listen, and we action. We're so much more than message takers; we actually help the caller satisfy their reason for calling. That could mean: Scheduling appointments; answering questions; facilitating transactions and handling payments. We document your rules and shape a program proven to reducing cost and increasing sales.

Classes and Events (Attend as many as you want)
You'll attend all Office Divvy Events free: Classes; talks; panel discussions and round tables. We'll then bring you in to help sell your business and services through events strategized and catered toward your subject of expertise.

Digital Team Work | Content Creation
You'll have access for up to 10 hours a month of Office Divvy's digital team and interns: They'll help you create and optimize your startup's web and social media content (writing, images, videos).

Consulting and Coaching | Monthly
We'll provide Monthly and Year End Coaching and Consulting services: Developing for your startup core tools such as a business canvas; a financial and marketing plan; as well as an operational plan. Plus coaching and advice from the participating mentors:


Enjoy this short video of moments from the event…




will the Flagler County's Most Interesting Startup contest ever happen again?
Absolutely! 2016 was our inaugural contest. To enter current contest, visit Most Interesting Startup Contest
2016 Contest In the News:


Latest posts by Ezra Salkin
(see all)