An Infographic: 5 Years in Coworking and more
This blog post previously appeared in the Old Office Divvy Blog.
We recently celebrated our 5th year Anniversary at Office Divvy ™ with a good party! Here is an infographic reflecting some metrics and accomplishments in our first five years, since we opened our doors in early 2008: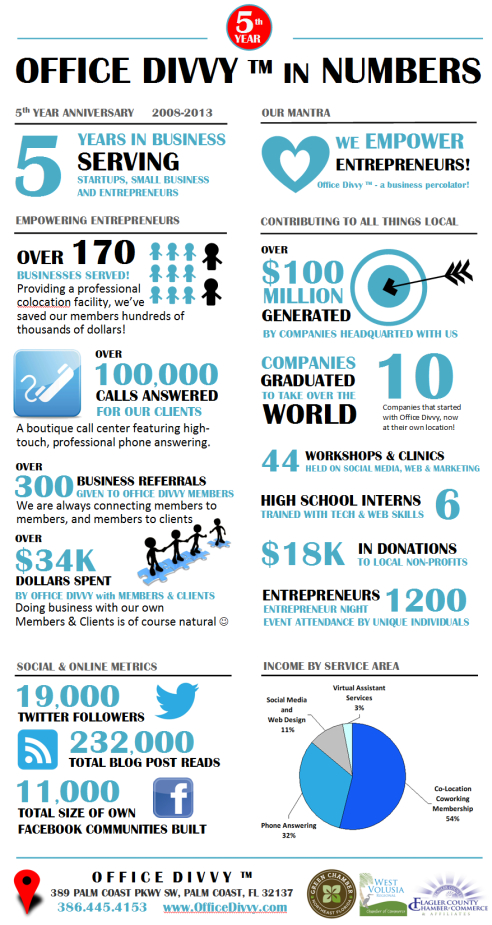 We look forward to another successful 5 years at Office Divvy and can't wait to share with you important announcements coming soon. Stay tuned!.. 🙂
It's been 5 Years…
Yes, Office Divvy ™ is Five Years old!
And we celebrated just that, in style on March 15, 2013!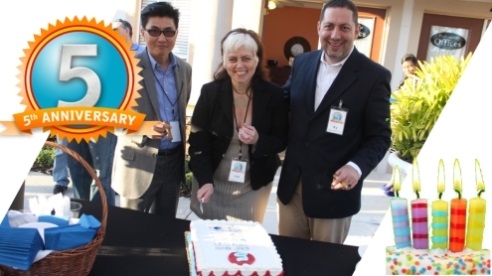 Our journey started in early 2008, and we celebrated in style our 5th Year Anniversary with the members and clients of Office Divvy ™ as well as friends, supporters and Palm Coast and Flagler County dignitaries and business leaders.
This picture was from our grand opening back in 2008, with Palm Coast Mayor Jon Netts and Office Divvy co-founder Lisa Ekinci, Ky Ekinci and Sim Taing: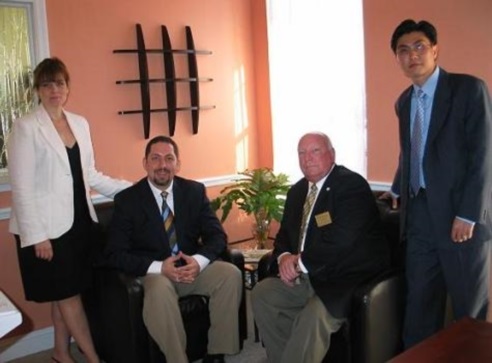 And here is our picture with Mayor Netts on Year 5 — it's been a privilege that the Mayor was there to celebrate with us 5 years later: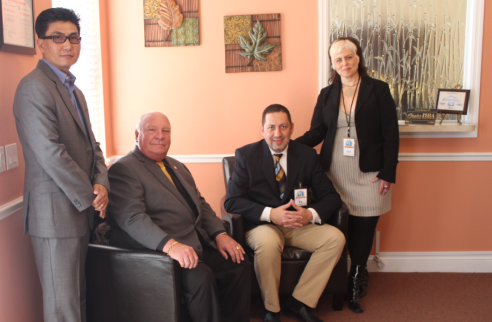 At our celebration party we've identified and given SUPERSTAR AWARDS to ten individuals. They are:
Mayor Jon Netts, City of Palm Coast (Best Mayor in Nation)
Helga van Eckert, Director, Flagler County DEO (Best in Economic Development)
Joe Roy, Manager. BAC & SBDC (Best Small Business Advocate)
Rebecca DeLorenzo, President, Flagler Chamber (Best Chamber President in Nation)
Aaron London, Editor, News Journal (Best in Business Journalism)
Julia Fuentes, Supreme Steamer (Tireless Ambassador)
Don Appignani, Attorney (Longest Office Divvy Member since 2008)
LeTeeshia Irvin, Original Team Leader (2009-2011)
Melissa Henderson, Superstar Team Member (2012-2013)
Amanda Vilay, Superstar Intern (2012-2013)
It's been a tremendous pleasure serving the Startup, Entrepreneur and Small Business Communities in Palm Coast, Flagler County and beyond. We have big plans for the next 5 years, stay tuned for those.
Here's a video from our 5th Anniversary Party, enjoy:

…and here's an infographic on Office Divvy's first 5 Years!


Latest posts by Ky Ekinci
(see all)