Office Divvy is the latest recipient of the Flagler County Chamber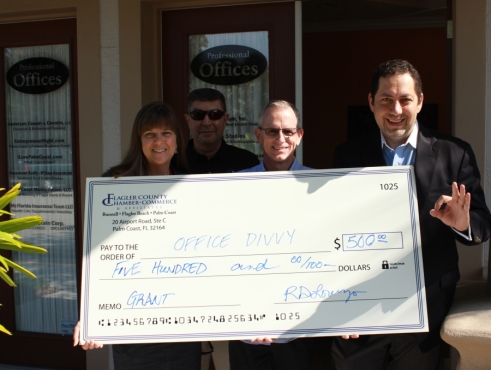 This blog post previously appeared in the Old Office Divvy Blog
Office Divvy is the latest recipient of the Flagler County Chamber of Commerce and Associates' small business grant designed to to support local businesses with improving the appearance of their offices and commercial properties.

The grant program reimburses businesses up to $500 for minor exterior and interior improvements. The grant is sponsored and awarded by the individual affiliate Chambers of Commerce in Bunnell, Flagler Beach and Palm Coast.
Office Divvy received the grant to convert one of the existing small-offices into a productive space with additional coworking and hotdesking stations at our West Pointe Plaza, Palm Coast location.
Total cost was $2,000 for the entire work. Maximum reimbursement amount of $500 was approved by the Palm Coast Chamber of Commerce, making the effective reimbursement rate 25% for the work done. A local contractor (and also a chamber-member) Auburn Homes was used in the work.
A check was presented to Office Divvy co-founder Ky Ekinci by Flagler County Chamber President Rebecca DeLorenzo, Palm Coast Chamber Chair, Jim Bowe; and Palm Coast Chamber Board-Member Jack Froonjian.
New space came out nice, yes? What do you think?
New space features two dedicated stations with phone lines for inbound and outbound calling, ample storage, and additional shared meeting room allocation –available at $299.- a month
Plus two hotdesking stations now complement and supplement the existing coworking lounge for Office Divvy members. These stations are located right across from the coworking lounge, making it possible to choose between a more social workspace or a little more focused-space with more privacy. All Office Divvy members can utilize the hotdesking stations for their solo work.
We appreciate the Palm Coast Chamber for helping us make this conversion possible. Flagler County Chamber of Commerce and Affiliates rock!


Latest posts by Ky Ekinci
(see all)