Coffee, Cowork, and Community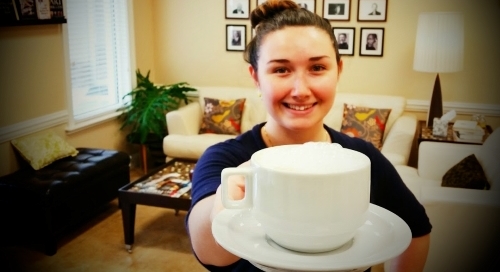 Some people can't even function in the morning without having that first mug of joe. Whether you instant, brew, or k-cup your caffeine, you don't have to be a coffee guru to understand why people drink coffee.
It could be the simplicity of the smell, the complexity of the taste, or the motivation in the buzz. Whatever the case may be, coffee has been one of the most favorited beverages around the world for centuries – and there's a reason for that.
In our youngest years, coffee was something that mom and pop had when they woke up. Unfortunately, no matter how inviting the java fragrance was, you were never allowed to taste because "you were too young" – unless, of course, you were able to sneak in a few sips here and there.
In our adult years, coffee's our best friend: there with us during those exasperating all-nighters and dragging us through the battlefield of Monday mornings.
Coffee has yet to fail us in our time of need, relaxing us or keeping us awake, when we need it most. In fact, according to an article on the New York Times: This is Your Brain on Coffee, it has a running list of notable health benefits.
Did you know?
Over half of the entire U.S. population drinks coffee.
This wonderful substance, coffee, is more than just a drink or something used to stay awake, it's also a social tool. From lovebirds to business partners – whether it's going out for a coffee date, or simply greeting your clients as they walk through the door – coffee has proven to bring people closer together.
"I was taken by the power that savoring a simple cup of coffee can have to connect people and create community." ~ Howard Shultz
That's a wonderful quote by Howard Shultz, the founder and CEO of Starbucks.  The idea of community, however, doesn't quite apply to coffee shops, as they are not true communities.  But Coworking spaces like Office Divvy are!
Just like Cheers – where everybody knows your name, and they're always glad you came – when YOU step into Office Divvy, there is always a smile on every member's face. You're greeted by the kindest of hearts, and welcomed into YOUR professional office space.
It's pretty nice to know that as soon as you walk in, you can already see someone making your favorite cup of coffee; with just the right amount of cream and sugar – not a spoonful over, not a spoonful under. It's at this point that you know you're part of a true community.
It's incredible to be able to work in an environment where everybody is polite and courteous, but it's beyond incredible to be able to work in a place where everybody genuinely cares. And in the Office Divvy community, people care. Check out this infographic, and learn how our members take their coffee: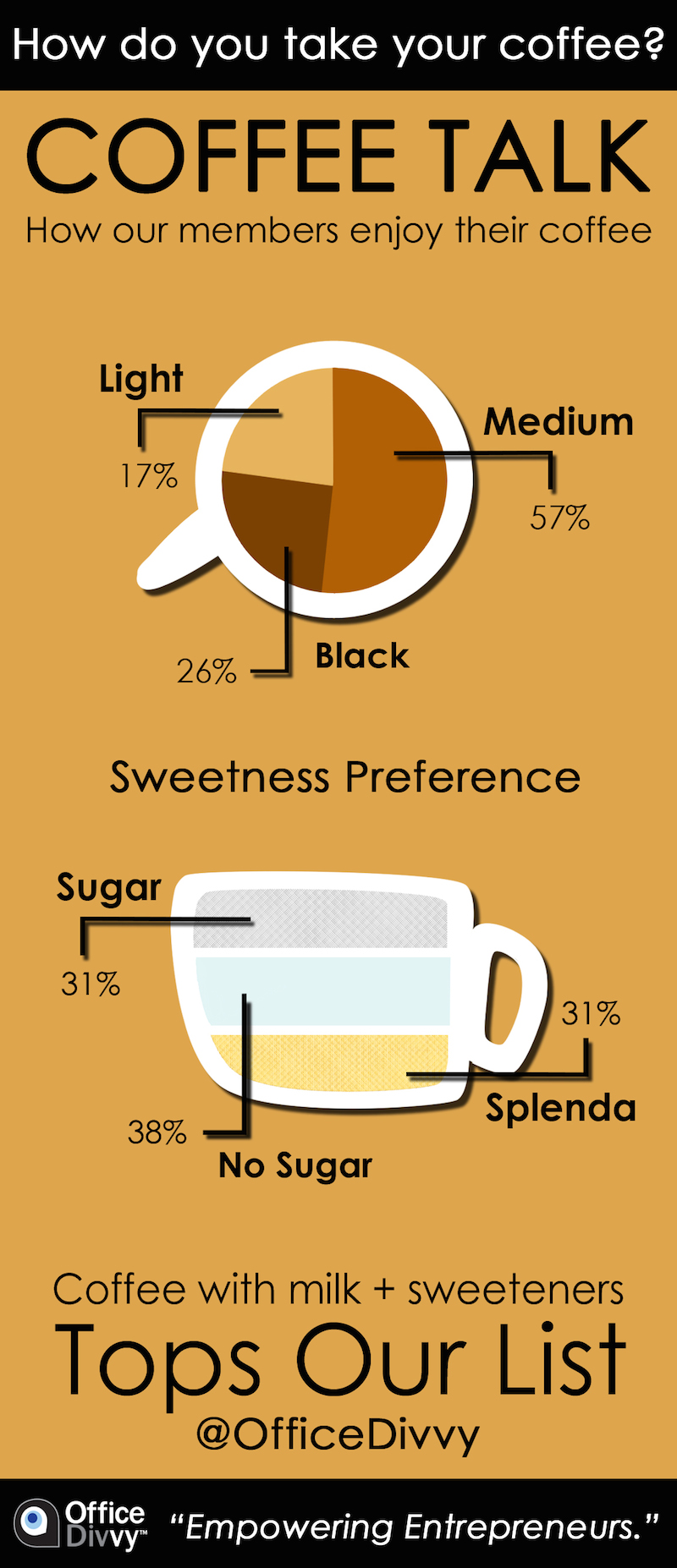 Learning how our members take their coffee is barely scratching the surface when it comes down to what we do for them.
Here are some examples:
Have a small stain on your shirt? Tide stick to the rescue!
Buried in meetings with no time to eat? We have a wide variety of tasty snacks just for you.
Computer giving you issues again? Our interns are always willing to lend a hand.
72 unread emails? How about we make you the perfect cup of coffee to get started?
Need an update in what's new in business or technology? Attend our classes at no charge.
Tired from a long day at work? How about a free foot massage? (just kidding)
We offer all of this, and more to our members.
While Michelin Stars and Zagats are sufficient rating systems for restaurants, sadly, there are no legitimate rating systems available to judge best coffee, best Coworking, or best community in the Palm Coast area.
Since there are no international or internal measures to rate all of these incredible services, we have no problem letting our services speak for themselves – and believe me, they speak loud and clear.
Trust me, you will not find another Coworking space that has coffee like ours. It's quick, easy, simple, and the best part, you don't even have to make it! We brew only the best coffee to perfectly match your taste buds. Double shot of espresso? Sure! Extra cream and sugar? Absolutely! Like your coffee black and bold? You got it! Whatever your taste, we'll make sure it's perfect.
Office Divvy also has an excellent community. Each of our members are engaged, efficient, and effective. There is no better way to cowork than to be around other productive, likeminded people.
If you do decide to become a member, your experience as a Coworker will be an invigorating one. Our community spaces give our members an unparalleled Coworking experience. We care about our members, we listen, and are proactive in assisting – we, wholeheartedly, want to see our members succeed.
Office Divvy is the place to be in Palm Coast for the best coffee, awesome Coworking, and an even better community!


Latest posts by Kedron Abbott
(see all)