Why we send cards and why it matters.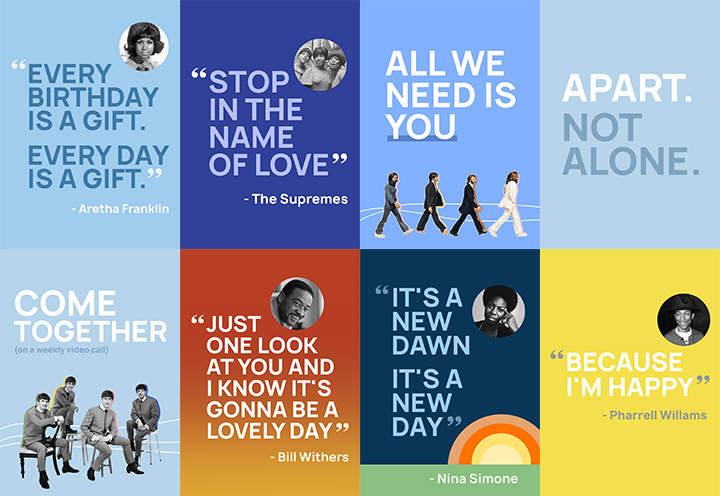 Show We Care
The process of creating and sending cards is a huge part of our culture here at Office Divvy.
Specifically, cards are an element of our culture of care. It's an opportunity for us to step back, think about the receiver, and create a moment that's special and meaningful. It matters a lot to us when our cards matter to someone else.
We hear a client is not feeling great, we send a card hoping to uplift spirits. We hear some good news, we send a card to celebrate. We hear something great, from a baby to an award and we send a card to commemorate and shine light on the joy.
This is our way of showing we care as a team… thinking about the person, what they love, what they perhaps don't love, and how to best convey our message.
Creating cards also makes us better. It gives us valuable moments together to think about our client or team member in more personal, sincere ways. It shows us the importance of empathy and thoughtfulness in the words we say.
World-upside-down Cards
During the start of the pandemic, we sent our members cards with good vibes messages and an invitation to join us for a regularly scheduled Google Hangout.
The pandemic cards were a unifying moment for the team to brainstorm ways to maintain human connection with our members during a difficult time.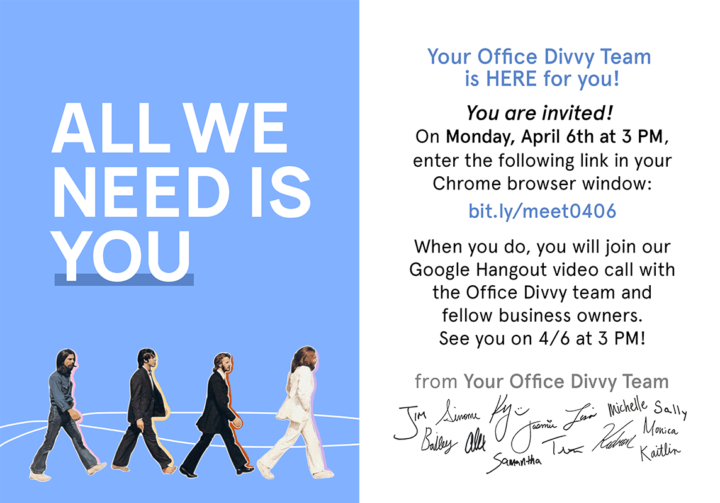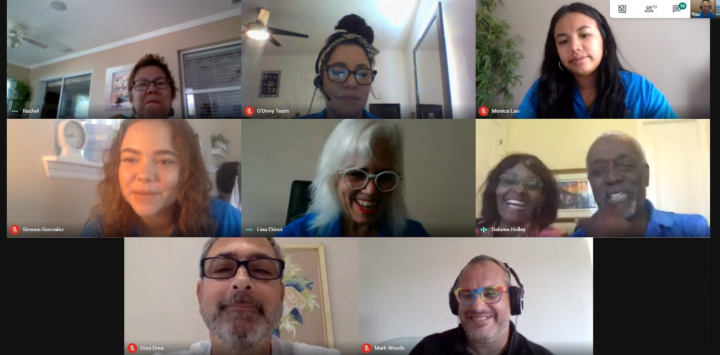 Love Machine Cards
One of our favorite cards is our custom birthday card we create each year for our clients. Here's our process:
We start with music. The entire team comes with their ideas and then we jam it out on a Google Jamboard.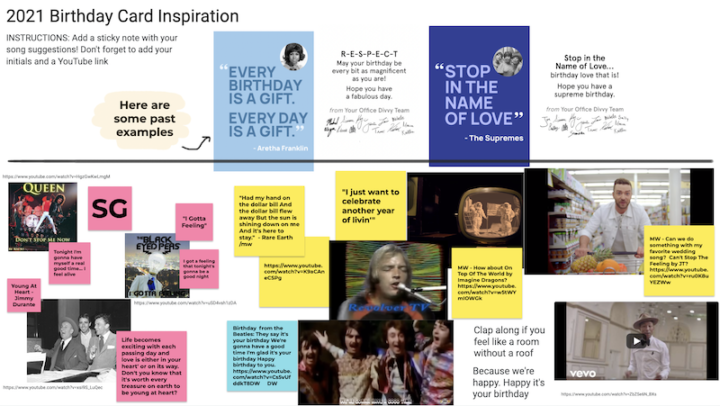 After choosing which song and line we should use on our card, we begin creating. We love the process of designing iteratively because eventually we get to a product that's just right.
We loved the song-themed birthday cards so much, we carried it along to our holiday cards. Last year, we celebrated Thanksgiving with Bill Withers' "Lovely Day."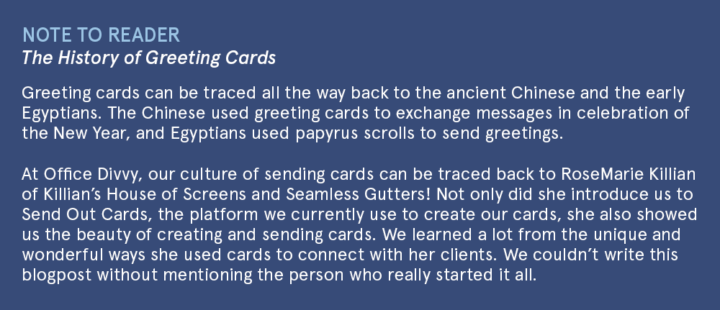 Here For You Cards
We recently created a card for one of our members who passed away.
When we create these cards together, it gives us time to pause and reflect upon the loss. It makes us think deeper about what the person meant to us and the right words to express their impact upon all of us.
Digital Cards
We've learned we can make a card on the fly and give it digitally.
Here's a card we created for one of our Experience Team members when she was leaving our company after 4 years. Of course the end product matters, but gathering the images, adding sticky notes to write individual notes, and then sharing the card with her on a video call is really what matters most.
Giving the card digitally gave us a chance to share even more stories that we all needed to help with the sadness and the opportunity to support her in her new chapter.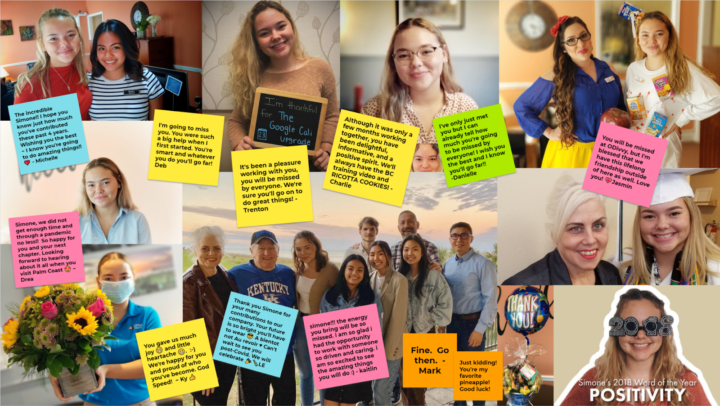 Giving this card to Ky meant a lot to him and to the team. As a co-founder and General Manager, his days are loaded. We were even able to invite some former team members to drop a few sticky notes onto the board. Getting your well wishes together for someone you work with everyday can be hard, but once you do it you begin to think, we should be saying these things more frequently.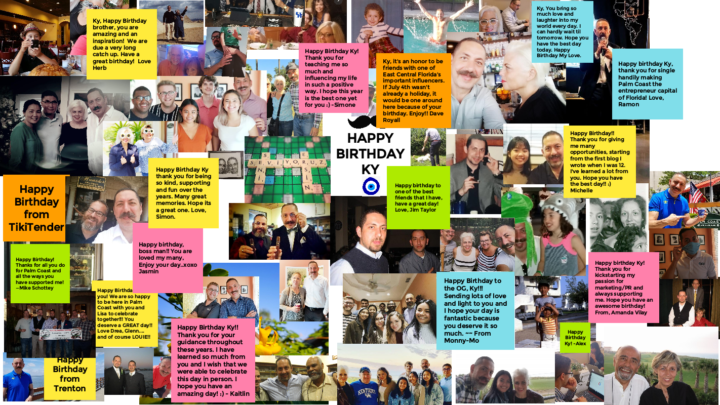 Our ultimate goal is to deliver a moment and share the moment with our clients and members. Doing so gives us valuable time to think about the relationships we share with the people around us.
From Your Office Divvy Team,



Latest posts by Kaitlin Taing
(see all)