What is an Angel Investor?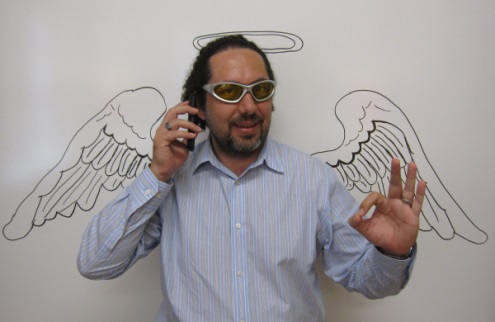 An Angel Investor, is an individual who would typically invest up to $150,000 in raw, early stage Web and Tech Startups, and who can stomach significant risk in their investment. An Angel Investor typically also has past entrepreneurial or specific industry experience.
Angel Investors (frequently referred to as "Angels") are affluent individuals who have had extensive business experience in one or more entrepreneurial ventures or in Startup environments. An Angel Investor would typically provide capital in exchange for convertible debt or ownership equity.
The following video provides terrific definitions on Angel Investing; and features Ron Conway of Angel Investors LP, and Mike Maple, Jr. of Maples Investments in a Stanford Entrepreneurial Corner presentation. Mr. Conway and Mr. Maple also explain the difference between an angel investor and venture capitalist, while pointing out why an angel's smaller investment dollars might be a better choice for a Startup:
Because Office Divvy ™ works with Startups, Entrepreneurs, Professionals, and Small Business community, two common questions we receive are "Do you know any Angel Investors?" or "Does Office Divvy ™ do Angel Investing?"
Our mantra at Office Divvy ™ is "Emprowering Entrepreneurs." We are equally and genuinely interested in a Startup idea, a new entrepreneurial venture, and in any current or prospective Office Divvy ™ member's existing business.
Services we provide at Office Divvy ™ are built around reducing overhead, and helping an Entrepreneur affordably outsource certain operations to our team so they can focus on their core-business objectives. Depending on the business idea or the nature of Startup business, we even provide free services for a generous duration; or create action-based pay-only-with-performance types of scenarios. In our membership, we have successful, functioning examples of both models.
Co-Founders of Office Divvy may also individually or as a collective invest in a business with an entrepreneurial or operational or equity investor roles.
If you are an entrepreneur in Palm Coast, Flagler and Volusia County, or anywhere in Central Florida or beyond, and have a Web/Tech Startup Business idea, do reach out to us for mentorship, co-location and collaboratively outsourced operations for your Startup, and for connections.
Note: This blog post previously appeared in the Old Office Divvy Blog


Latest posts by Ky Ekinci
(see all)