Membership Benefits and Fringe Benefits at Office Divvy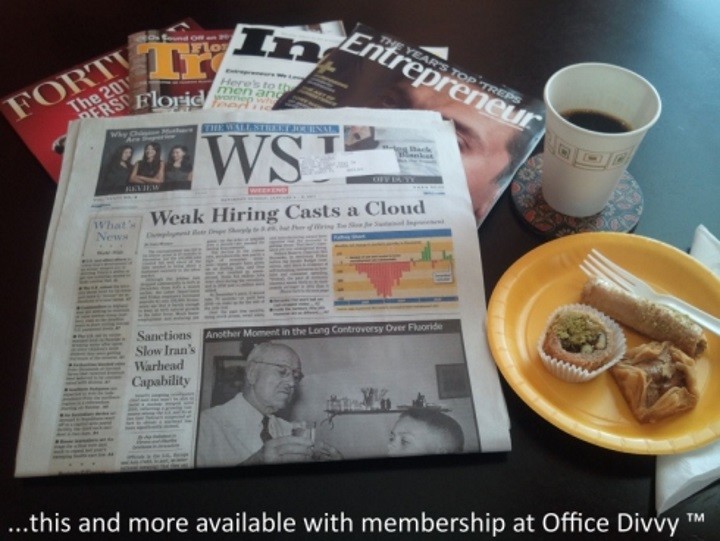 This blog post previously appeared in the Old Office Divvy Blog
What we do at Office Divvy ™ is hard sometimes for people to process, and it's even hard for us to define in a nutshell. The range of services we provide to Small Business and Entrepreneurs is wide, very wide.
For the typical business-person, the idea of running your business from a base of a nurturing, collaborative, cooperative model does require a paradigm-shift and "a-ha" moments.
People look at us with a big question mark when we say: "We do not really rent or lease office space. or we are not exactly a Palm Coast Executive Offices provider."
Yes, we are a membership model, and yes, we provide furnished offices, virtual office solutions, and office hoteling, and coworking space within our co-location facilities in Palm Coast; but the biggest differentiator of what we do is the fact that we're NOT in the Real Estate game, we're in the SERVICES BUSINESS.
Our mantra is:
" Empowering Entrepreneurs."
We are reminded of our mantra daily, and we truly live that every day! Office Divvy ™ is a small-business incubator, virtual office provider, office-hotel, coworking space, and startup accelerator all in one!
Today, Office Divvy ™ has dozens of members across 18 industries; and there are many benefits which come with the membership, including business location functionality; mail and mailbox service; use of furnished, wired, equipped, and staffed offices; use of printers, copiers, scanners, faxes etc. etc.
But I particularly like the fringe benefits of membership which I think are really priceless:
Tremendous boost of professional image.
Having a staffed business location that is open 50-hours a week even if you're not in. This is huge! People can leave things for you, drop off a check, pick up a document. You don't need to preside over every transaction –this is all good professionally, good for the soul, and good for the business.
Unlimited coworking space-use: Yes, do you solo-work, but side-by-side with others. Leaving the isolation or distractions of a home office (when you want to), and the ability to have a, so called, "water cooler conversation" and bouncing ideas off of other professionals can be a tremendous benefit.
Ability to be in business instantly, effortlessly, and affordably.
Being referred business from fellow members.
Ability to access resources instantly and at a discount. You need a web-design guy? Boom! You need a computer-repair person? Bam! You need an SEO person? Boom! You need a logo-design? Bang! Such profiles are instantly accessible through members or within Office Divvy team-resources….and all at special discounts because you are a member!
Discounted co-op advertising in Palm Coast Observer, Flagler County Pennysaver, Volusia/Flagler Business Journal, multiple online properties with tens of thousands of subscribers, and more.
Increased access to press and journalists' ears.
Members-only networking opportunities, events, free workshops and clinics.
The opportunity to gain Office Divvy ™ as a client: Yes, when possible we give business to our members. On average we spend $2,000 to $5,000 annually in business given to our members.
Ability to do business at the speed of light with Palm Coast FiberNET.
Great business publications to enjoy while you're in the office.
Free gourmet coffee, tea, and snacks.
…speaking of coffee, I am a fan of coffee, I do not overdo it, but I like good, strong coffee. We feature both fresh brewed esspresso-grade Cafe Bustelo brew, as well as French Roast and Decaf Coffee, along with a selection of green and black teas. Grab a snack or sweet with that, read the Wall Street Journal, the Entrepreneur or Inc. Magazine.
We encourage you to come in for a tour and meet the team…
By the way, are we connected on facebook? Do connect with us on facebook here. And if you are on twitter, connect with us here.
Thank you for listening. 🙂

I'm a Co-Founder and Managing Partner of Office Divvy. I am an entrepreneur, a trusted advisor, a world traveler, a Coworking advocate, and an appreciator of fine cigars.

Latest posts by Ky Ekinci (see all)